A Step-by-Step Guide
With the increasing news of how profitable NFTs and their tokens are, many want to get involved. So to make this easier, we have carefully shown you how to buy NFT Tokens on this page. We recommend you take your time to read through if you must start your NFT journey.
Meanwhile, you'd often read about great news in NFTs, like how celebrities drop millions of dollars on seemingly mundane digital works. For instance, Jack Dorsey, founder, and CEO of Twitter sold an NFT of his first tweet last October 2021 for a huge sum of $2.9 million. Also, celebrities like Grimes, Snoop Dogg, Paris Hilton, and Shawn Mendes have acquired in on the NFT action, introducing their own NFT collectibles.
Now it's time you do the same for yourself. Simply follow the guide we've elaborated here.
You can also read Non-Fungible Tokens (NFTs): Untold Secret You Need To Know 2022
Why Should I Buy NFT Tokens
They exist a plethora of reasons why you need to buy NFT. While it can be relative, it also has some generic purposes. Some of the reasons include the fact that buying NFTs gives you complete ownership over the token you've bought. Whether it is an image, music, a video clip, or even game items. You will have the digital signature of your NFT, and the blockchain tech records each movement of your token. This includes whether they are posted somewhere or forwarded, or utilized in any other way.
Furthermore, buying an NFT implies you have gained ownership over an original digital artwork, in a similar manner as owning an original Leonardo da Vinci painting with a certificate of authenticity. Therefore, you can as well decide to sell it at any time you desire at your determined price.
How do I buy a NFT token?
Today, we have numerous online marketplaces where you can sell and buy NFTs. However, most of them run within the Ethereum blockchain. Therefore, using its native cryptocurrency ether (ETH) to trade NFTs.
Meanwhile, if you want to buy your NFTs and want to start your NFT collection, follow the complete guide to buying your first NFTs below;
1. Set Up An Ethereum-Compatible Crypto Wallet
Firstly you need to set up an Ethereum-compatible crypto wallet for yourself. Thus, most NFTs are sold and bought using cryptocurrency. Therefore, you'd need some crypto tokens and a crypto wallet to store your tokens if you don't already have one. We majorly use Ethereum tokens for these marketplaces, so you need them to buy your NFTs.
However, some platforms, allow you to top up your wallet with either Binance Coin (BNC), Binance USD (BUSD), or ETH for instance Binance.
2. Register to an NFT Marketplace
Next, you'll need to select a marketplace from which to buy NFTs. You can choose from myriads of marketplaces available online. You'd have to register an account with your chosen marketplace. We've listed some of the most popular ones, they include:

OpenSea is considered one of the largest peer-to-peer marketplaces. It runs on Ethereum and hosts various NFTs and collections.

More like OpenSea, Rarible hosts numerous pieces directly from the artists themselves so they can sell their original work.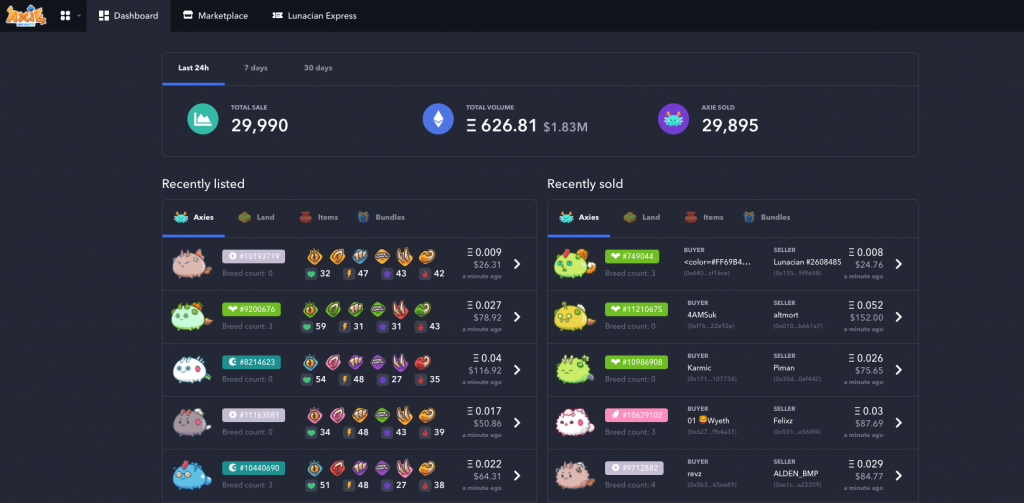 Axie Infinity is an interesting blockchain-based game where users can breed digital pets. You can buy the pets, on the Axie Marketplace. While in addition, you can also sell or buy other game items.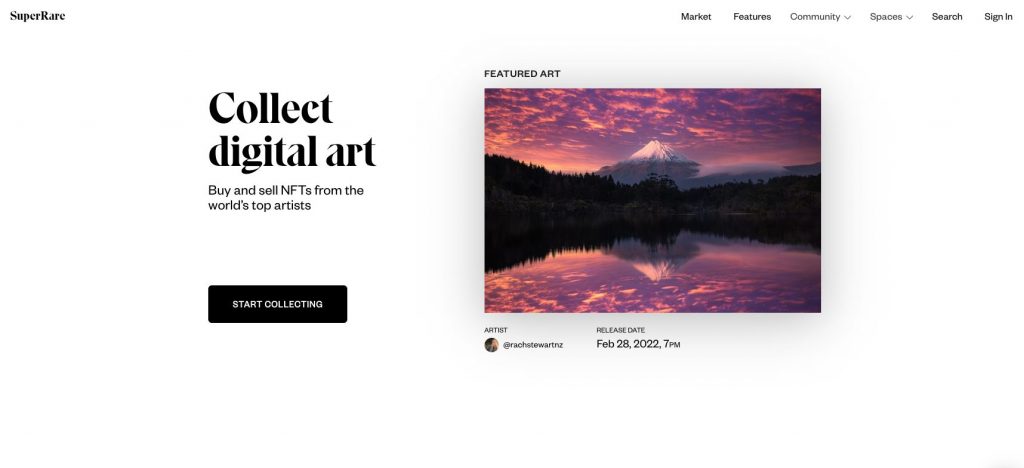 SuperRare specializes in digital art similar to OpenSea and Rarible. Hence, it is a peer-to-peer network that runs on the Ethereum blockchain.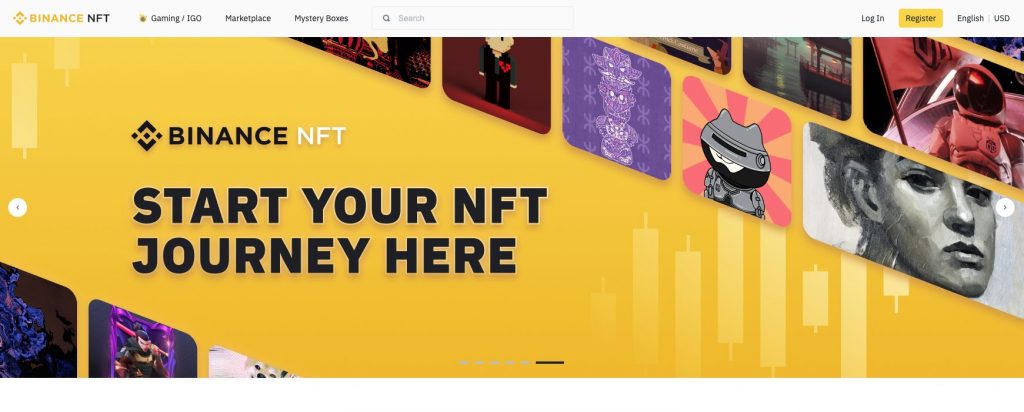 Binance, one of the largest cryptocurrency exchanges today also has its NFT marketplace featuring art, game items, and more.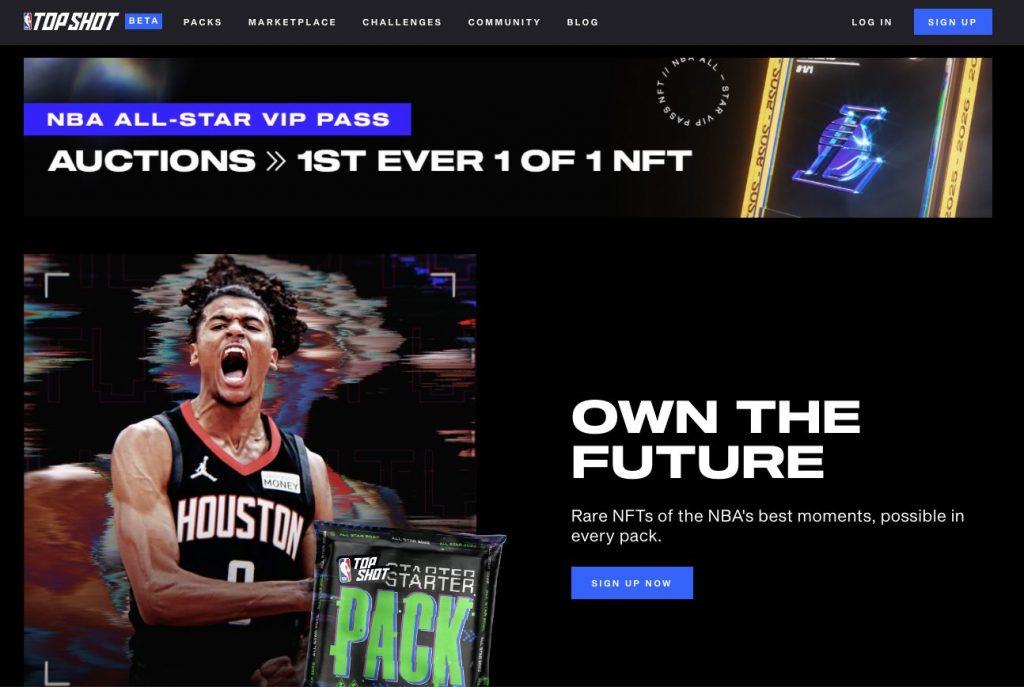 NBA Top Shot sells NFTs relating to basketball teams in the NBA. The collectibles have licenses and official digital merchandise from the NBA franchise. You can think of them as the new, high-tech trading cards more interactive than your plain old physical cards.
3. Connect Your Wallet to the Marketplace
After selecting and opening an account in a marketplace, next you have to connect your digital wallet to your account. You need to do this if you must start conducting transactions on the NFT marketplace.
4. Do Some Window Shopping
Now you have to browse through the marketplace website to find and bid on an NFT that you like. Many marketplaces do auctions selling on NFTs, more like real-life auctions that sell one-of-a-kind art.
Whenever finding an NFT to invest in, you need to consider popularity and rarity if you want your choice to attract higher prices in the future. One of the best tips includes looking for pieces going viral and early collections from artists.
5. Place a Bid
When you find a piece that interests you, place a bid on it. Most of the time, the sellers give vital information about the NFT and the logistics of the auction to potential buyers.
After the auction time, if you have the highest bid, the marketplace will then complete the buying process. The marketplace will debit your wallet the amount you bid, as well as any fees they charge.
6. Congratulations! You Now Have You Own NFT
There you go! Once the system has completed the transaction, you now own your first NFT. What does this mean? It means you have whole ownership over the digital asset you have purchased. Even if copies/samples of it exist online, only yours remains the genuine version. Also, its blockchain feature assures that anyone can verify easily that you indeed own the NFT.
In addition, some people buy NFTs as an investment and save them until the value of that NFT increases, so they can resell it to someone else for a profit. While, others choose to collect NFTs as a source of pleasure and pride, more like people fond of accumulating art for art's sake.
How to Securely Buy NFTs Now
Are you looking to invest in the burgeoning world of NFTs? It's an exciting but also complex market, so it's important to make sure you purchase your NFTs securely. Here are some tips on how to do just that:
1. Do your research: Start by researching the projects and developers involved in the NFTs you're interested in buying. Look at reviews from other buyers and read up on any associated news stories.
2. Consider liquidity: Before buying, think about whether you'll be able to easily sell your NFTs if need be. This will depend on the size of the marketplace, so find out as much information as you can beforehand.
3. Read the contract: Make sure you fully understand the terms and conditions before signing on the dotted line. Don't rush into anything without reading all the fine print.
4. Check for authenticity: The best way to ensure that you don't get scammed is to verify the origin of any NFTs you're considering purchasing. Most reputable exchanges have authentication protocols in place, so use these services whenever possible.
5. Choose a trusted platform: Pick a secure platform to buy your NFTs from — ideally one that has been reviewed by many satisfied customers. Be aware of any fees associated with making transactions, too.
What Coin Do You Use To Buy NFT?
Some NFT marketplaces accept credit cards for NFT payments. Some of them include Nifty Gateway and NBA Top Shot. However, many other NFT marketplaces require cryptocurrency to make purchases. Meanwhile, on any platform, you'll need a crypto wallet to start buying NFTs.
Majorly, you need an Ethereum-compatible crypto wallet as you need ETH tokens for a start. Therefore, currently, only ETH token is supported in marketplaces to transact NFTs.
Are NFTs Safe?
The increasing popularity of NFTs has sparked an energetic debate over their security. Considering it is a new technology, it requires a greater level of safety compared to the existing one. To properly assure the complete security of investors' assets.
One of the hurdles and risks NFT investors and projects face includes scams. Malicious actors mimic well-known platforms, exchanges, or wallets to steal users' personal information and gain access to their virtual assets. Thereby jeopardizing NFT security.
More so, the fact that anyone can tokenize other people's material makes the question "Are NFTs safe?" so important for the global community. Hence, making the capacity of centralized platforms to protect the private keys of all assets kept on them critical to NFT security. Even if platforms embrace the most modern security measures, a considerable NFT risk is associated with users' inability to securely store their passwords and other sensitive data, which unethical actors can use to acquire their NFTs.
NFTs obtained by individual art collectors may become inaccessible in specific situations. When a consumer purchases an NFT, he receives a link to the file that contains the artwork. This artwork is not saved on the blockchain, rather, it may be stored anywhere. Furthermore, NFT platforms can shut their windows at any time. Therefore, a user is unable to show his or her information.
How long should I hold my NFT?
Firstly, note that once a creator records NFT information in the Blockchain technology the blockchain complements it, thus making it immutable, and it will remain that way as long as the blockchain network exists. That said, these NFTs can normally last for decades in your wallet or circulate the market
Therefore, you can hold your NFT for as long as you choose. If your NFT gains lots of value you can decide to place it on auction to make profits after the sale.
Is it worth buying NFT tokens?
Yes and No. If you make research before purchasing an NFT hence understanding the value, then it can be worth the chase. However, NFTs by themselves are not investments. So, investing in an asset just because it's have been tokenized into an NFT Is not a good idea.
Related Links